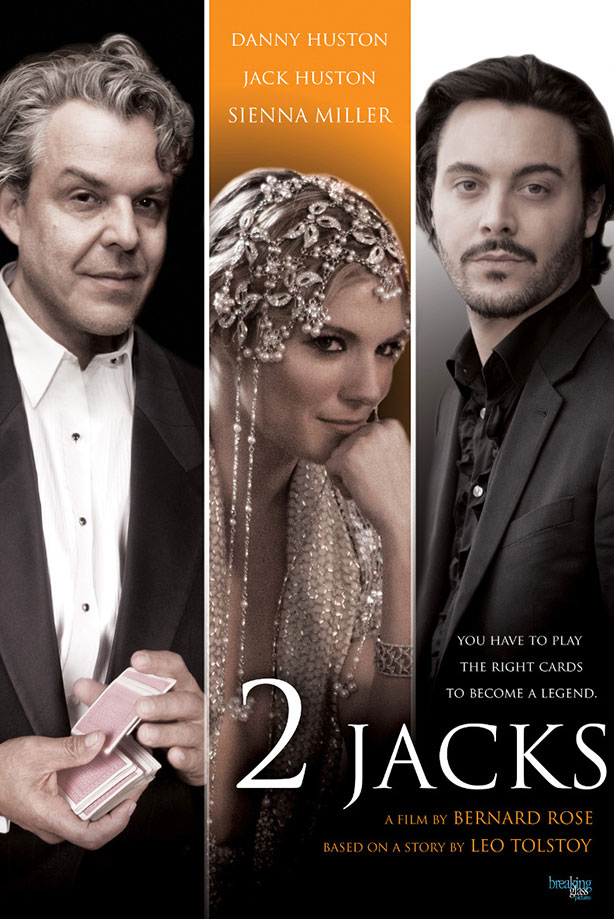 2 Jacks is a comical adaptation of Leo Tolstoy's short story Two Hussars, comparing the generational change from father to son within the same business.
The fast-paced Hollywood lifestyle, with romance and glamor, comes alive in 2 Jacks; a now-and-then look at the renowned way of living. Legendary film director Jack Hussar (Danny Huston), notorious gambler and womanizer, returns to the LA scene to raise money for his next feature film. Back in LA, Jack walks himself into an eventful night. Doing what he does best, Jack seduces the stunning Diana (Sienna Miller), attends some wild industry parties, and narrowly escapes a brush with the law, all before playing a high-stakes poker game at dawn.
As years pass, Jack Hussar Jr. (Jack Huston) later arrives in Hollywood to follow his father's career path for his directorial debut. Soon after arriving, Diana (now played by Jacqueline Bisset) notices her daughter falling for her former lover's son. Within this film we see the struggle of a son trying to step out of his father's Hollywood shadow.
Producer: Julia Verdin
Director: Bernard Rose
Starring: Danny Huston, Jack Huston, Sienna Miller, Jacqueline Bisset, Billy Zane
Distributor: Breaking Glass Pictures
Year: 2013

Official Selection:
Montreal World Film Festival
Vancouver International Film Festival
Hollywood Film Festival
Raindance Film Festival
Leeds International Film Festival