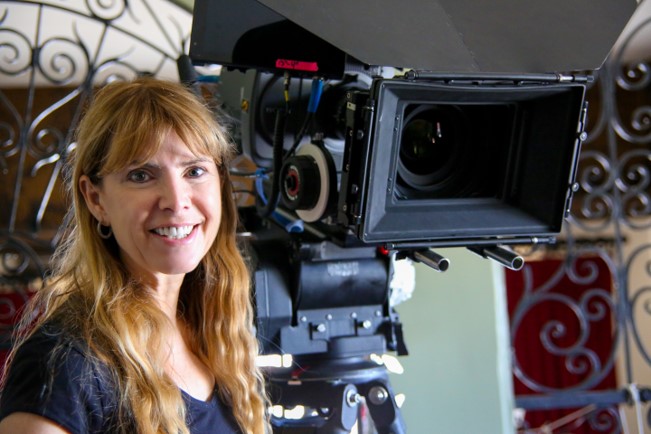 Today we'd like to introduce you to Julia Verdin.
Julia, can you briefly walk us through your story – how you started and how you got to where you are today.
I went to drama school in London and started in the film business as an actress and loved the experience. I achieved a certain level of success but was not good at sitting around waiting for the phone to ring and so I started to develop film projects.
One of the things I loved most about acting was developing characters and thinking about what a certain type of character would do in a given situation, and I found that same joy in developing scripts. I fell into producing and found that I was good at it and it felt like the right path for me to take.
25 years later, I still love making films and have produced 36 films to date and also transitioned into writing and directing too.
Overall, has it been relatively smooth? If not, what were some of the struggles along the way?
I don't think any road is ever totally smooth, there are always bumps, twists, and turns! I always like to look at what some might call struggles, as challenges and learning opportunities.
You meet a lot of characters in the film business, and you need to learn how to decipher what people actually mean. In LA, in particular, people often have a hard time saying no, maybe through fear of missing out or losing an opportunity or sometimes they just don't know what they think. One can waste a lot of time waiting for that magical scenario, where everything from cast to financing comes together for you, so I've learned to drive all of these things myself.
Even then, many times I've had situations where investors disappeared, did not actually have the money they said they had. So now, I don't count on any financing offered until it is actually in the bank. Putting a film together is like a big jigsaw puzzle, you have to get a bankable cast in place that works creatively for the various roles, the money in place, a director, suitable locations, sometimes an insurance bond and bank financing.
If one key piece falls out, it can put you back to square one. The trick is to get all to fall into place at the same time and stay there! The business is also constantly changing, and so I make it my business to keep my finger on the pulse and keep learning and expanding my knowledge and skills.
Rough Diamond Productions – what should we know? What do you guys do best? What sets you apart from the competition?
I have a film production company and a talent management company. I also run a filmmaker group and founded a non-profit, Artists For Change.
On the production company side, we specialize in making good quality, independent movies such as two Jacks with Siena Miller, Danny Huston, Jack Huston, and Jacqueline Bisset, The Merchant of Venice with Al Pacino and Jeremy Irons and Stander with Thomas Jane and Deborah Unger. I am proud that many of the films I have produced have won awards and played at major festivals, such as Sundance, Toronto, and Venice and have had a theatrical release.
I am proud that I have managed to survive in a competitive business. I am also proud of the fact that I have always operated with integrity and enjoy the work I do and the people I work with. I have also mentored a lot of young filmmakers and helped them to find the right path to get their films made. I am particularly proud of the work we have done with Artists For Change – https://www.artists4change.org/.
One of our missions is to create media to raise awareness on key social issues. I am very proud of the media we have created to raise awareness on child trafficking. I initially directed a short film Lost Girls starring Bar Paly and Marisol Nichols, Siena Goines and Jamie Harris that is currently available on Amazon and on a variety of educational platforms.
I have just finished shooting a follow-up feature film Lost Girls: Angie's story starring Olivia D'Abo, Dylan Sprayberry, Jane Widdup, Randall Batinkoff, M.C. Lyte and Anthony Montgomery. It's a story about a young teenager who is trafficked and eventually manages to escape and the challenges both she and her family face as a result of the trauma. Survivors often face ongoing threats from their traffickers.
Child trafficking is a terrible problem in the US as well as globally and desperately needs more light shed on it. I hope that the film will help to raise awareness on this issue and raise more support for the many wonderful organizations that fight against it. I very much hope it will help teenagers recognize the types of techniques traffickers use to recruit their victims so that they can protect themselves better and also recognize the signs if one of their friends is being groomed by a trafficker and report it.
To me, education leads to prevention and many teenagers and families are unaware of how prevalent trafficking now is in the US. The tragedy of what happens to young teenagers who are trafficked and the level of trauma that they experience can take years to recover from if they are lucky enough to escape or be rescued. Some of the stories I have heard from survivors and people working in the field are heartbreaking.
I also teach filmmaking and enjoy sharing what I have learned with others. I am a great believer in mentorship and passing down information learned. By sharing what I have learned along the way, and what has worked and what didn't with others can help them to avoid mistakes and make their journey easier.
What is "success" or "successful" for you?
Success is being happy within yourself and being of service to the world as best one can.