By Terence L. Taylor & Donna Strokes
Would you recognize an opportunity if it came cloaked in hate and violence? Would you embrace your destiny if it required you to change your entire outlook for your future? Sometimes the choices that are forced upon us are more transforming than those we make for ourselves.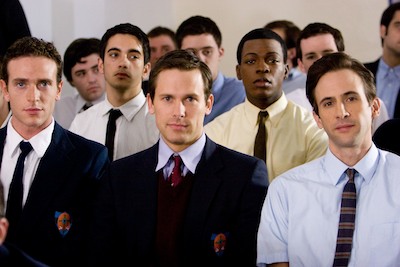 Nicholas Levene (Bill) , Carter MacIntyre (James), Cedric Sanders (Richard), Bernardo dePaula (Nick) ….photo credits Chris Priga
Caught in the wrong place at the wrong time, Richard Kelly is accused of assaulting a police officer and stealing. Forced to plea bargain his future in business away, his saving grace is that he holds a bachelor's degree and has no prior record. Inspired by a true story, Mark Young wrote and directed this tale of a young black man forced to attend an all-white seminary in the 1960's in order to escape prosecution for a crime he did not commit. 'The Least Among You' chronicles his first year in the seminary and how his pursuit for racial equality within it's walls changes the course of his life.
Richard Kelly, played by Cedric Sanders, runs into opposition from the all-white faculty and student body, but it is unclear if they are opposing racial integration or Richard Kelly's methods of promoting change. There were many times during the film that Cedric Sanders portrays his character as a man angry because he's not getting his way, rather than a leader trying to motivate change. The character himself is there under false pretenses, feigning the desire to become a minister in order to stay out of jail.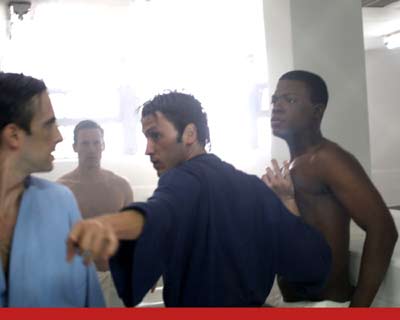 Adversity among the studets featuring Bernardo DePaula (Nick), John Brently Reynolds (Fred), Cedric Sanders (Richard) – photo credit Jack Zeman
While flashbacks to the violence of his youth, and present day interactions with his nefarious friends from Watts, attempt to make us sympathetic to Richard's purpose, it serves only to estrange us from his plight even more. The relationships and the deeper emotional ties to his past are not well developed. The character comes across as pampered, egotistic and unreasonable rather than as the natural born leader the film is struggling to convey.
Peppered with inspirational characters, the stars in this movie do shine. Lauren Holly gives an emotionally powerful performance as a seminary teacher with a painful secret, though the secret is never truly defined in the film. Samuel Benton, the nurturing grounds keeper played by Louis Gossett, Jr, who lives in the basement of one of the buildings has welcomed Richard into his life. From the moment they first meet, Samuel takes a paternal interest in Richard and ultimately becomes his greatest ally. Looking out for and guiding the disgruntled young man throughout the movie; pushing him to see passed his personal ambitions and embrace his destiny.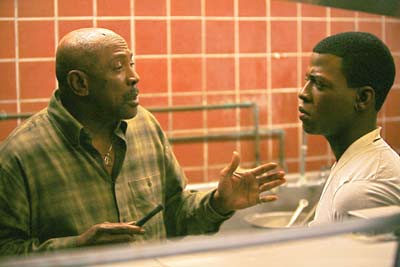 Samuel Benton, (Louis Gossett, Jr) guides Richard Kelly, (Cedric Sanders), towards his destiny – photo credit Jack Zeman
When interviewed, Cedric Sanders said of his famous co-star, "He is an actor and a gentleman." Throughout the filming, Louis Gossett, Jr served as a positive inspiration to all of the cast and crew. Cedric would receive a motivational gift from him each day. This thoughtfulness brought Cedric back to his roots of growing up in a church community and helped him bring more depth to the character of Richard Kelly.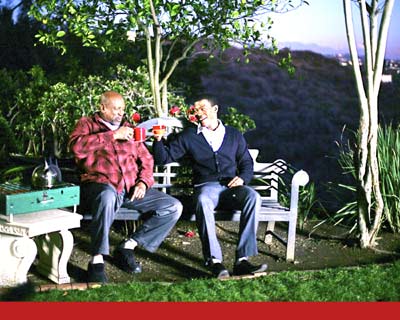 Louis Gossett, Jr (Samuel Benton) and Cedric Sanders (Richard Kelly) – photo credit Jack Zeman
Whether you believe in chance, fate or destiny, this movie would not have been possible if two key people weren't out walking their dogs on the same day, in the same park. It was there that writer Mark Youngspoke with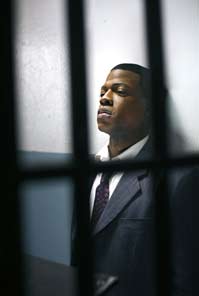 Richard Kelly, (Cedric Sanders), awaits his sentence – photo credit Jack Zeman
producer Julia Verdin, (founder of Rough Diamond Productions), about the script that he had been working on-and-off with since 1995. Julia, who has produced several motion pictures, had been in the market for an inspirational film and was eager to participate. As she said in our interview, this film is about choice and the courage we must have in our convictions to do the right thing.Though the intentions were noble and the basic premise touching, overall 'The Least Among You' lacked the passion and conviction needed to inspire and motivate. The actions of the main character were not consistent with the message that the creators were hoping to communicate.
Link: http://www.lasplash.com/publish/Los_Angeles_Performances_116/The_Least_Among_You_Movie_Review.php