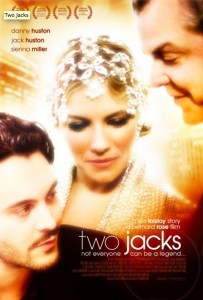 Danny Huston and his nephew Jack star in this modern-day adaptation of Tolstoy's short story "The Two Hussars."
Danny Huston delivers a compelling riff on his legendary filmmaker father John in 2 Jacks,Bernard Rose's loose, modern-day adaptation of Leo Tolstoy's short story The Two Hussars. Playing a roguishly charming director boozing, brawling and seducing his way through Hollywood while seeking financing for his next film, the charismatic actor delivers a virtuoso turn co-starring with his real-life nephew JackHuston (Boardwalk Empire) as his son.
The film is divided into two segments, the first featuring the older Huston as Jack Hussar, a veteran filmmaker who's clearly down on his luck as evidenced by the less than welcome greeting he finds when he returns to Los Angeles. Given a ride to his hotel by Brad (Dave Pressler) an unctuous, wannabe producer, he finds that his hotel declines to give him a room until he settles up his large bill. After he leeches off Brad for the money, the hotel refuses him anyway.
Arriving at a Hollywood party while smoking a huge cigar, Jack spots the beautiful, society –type beauty Diana (Sienna Miller) across the crowded room. He soon sweeps her up in a tango dance, and shortly thereafter seduces her, telling her that "I would do anything for you…I would walk through fire." Later he's pulled over by a cop on suspicion of drunken driving, but manages to talk his way of an arrest through the sheer force of his charisma. The film's first segment concludes with a poker game in which he manages to win financing and final cut of his next project from his wary producer (Richard Portnow).
Cut to twenty years later, when we're introduced to his son Jack Jr., who similarly arrives in L.A. to make a movie. He promptly comes into contact with the older Diana (now played by Jacqueline Bisset) and her daughter Lily (Rosie Fellner), with history repeating itself as the two offspring begin a flirtation. Except that things have changed: The younger Hussar displays little of his father's finesse, as illustrated when he too is pulled over by a cop after engaging in some automotive sex with an aspiring starlet and finds himself arrested and photographed by rapacious paparazzi.
While the film is not entirely convincing in its mirroring of Tolstoy's story about collapsing values, it's a reasonably entertaining portrait of disreputable Tinseltown types that should at least provide some knowing chuckles for insiders.
Director/screenwriter Rose's chief stylistic conceit is to shoot the first half in monochromatic, washed-out tones, with the second half blooming into full color. Another reminder of the story's origins is the ever-present, Russian-style musical score featuring generous doses of balalaika.
Ultimately it's little more than a trifle that's enlivened by the older Huston's inevitably referential performance. Looking and sounding uncannily like his old man, the actor makes his delight in conveying his character's rakish appeal infectious.
Opens: Friday, Oct. 18 (Breaking Glass Pictures)
Production: Rough Diamond Productions
Cast: Danny Huston, Jack Huston, Sienna Miller, Jacqueline Bissett, Billy Zane, Rosie Fellner
Director/screenwriter/director of photography/editor: Bernard Rose
Producer: Julia Verdin
Executive producers: Priscilla Ross, Marcy Levitas Hamilton, Strath Hamilton
Production designer: Bradd Wesley Fillman
Costume designer: Julia Clancey
Composers: Iryna Orlova, Anatoliy Mamalyga
Not rated, 90 min.
View Article