By SAM THIELMAN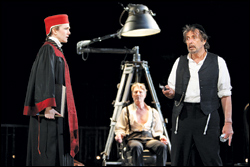 The Merchant of Venice'
A Public Theater presentation in cooperation with the city of New York of a play in two acts by William Shakespeare. Directed by Daniel Sullivan.
Antonio – Byron Jennings Salerio – Francois Battiste Solanio – Matthew Rauch Bassanio – Hamish Linklater Lorenzo – Bill Heck Gratiano – Jesse L. Martin Portia – Lily Rabe Nerissa – Marianne Jean-Baptiste Shylock – Al Pacino Prince of Morocco – Nyambi Nyambi Launcelot Gobbo – Jesse Tyler Ferguson Jessica – Heather Lind Prince of Arragon – Max Wright Tubal – Richard Topol Duke of Venice – Gerry Bamman
If it sounds snide to say that helmer Daniel Sullivan's "Merchant of Venice" is brilliant except that the director misunderstands Shylock, it shouldn't. How often does the famous villain appear, anyway? He has some of the biggest moments in the play — bigger in this production because he's being played by Al Pacino — but Shakespeare's script is about lovers. Sullivan's production rightly focuses on the tentative love triangle between Bassanio (our layabout hero), his doting friend Antonio, and the object of his affections, Portia. Sullivan handles these relationships with such admirable subtlety that the play shines.It doesn't hurt, either, that our Bassanio in this production is the likable Hamish Linklater, an actor whose interpretation of the luckless hero is less dashing heartthrob and more surprised puppy. He embarrassedly describes his financial woes to his benefactor Antonio (an excellent Byron Jennings, who nicely underplays his character's crush on the younger man) with such self-reproach that Antonio's generous response becomes the obvious course of action.
As the loan shark who supplies Antonio that money, the biggest surprise about Al Pacino is his understatement. The actor gets the requisite look-there's-a-movie-star applause when he walks on stage, but any worries that his outsized persona might overcome the production prove unfounded. Surprisingly, Pacino underplays even Shylock's most unsettling speeches. "Hath not a Jew eyes?" he demands of Salerio (Francois Battiste) and Solanio (Matthew Rauch), but he does it so mildly that it's hard to tell why he's holding back — until one starts to wonder if perhaps he's afraid of them.
Unfortunately, Sullivan decides that the tremendous sympathy we feel for a little old man bullied by bigots means that the little old man in question must be noble figure. At the end of the play Shylock has been condemned to convert to Christianity or die (a troubling moment when shown without any adornment, although few directors can resist the impulse to adorn it anyway). A little later, we get an extended silent scene in which Shylock is forcibly baptized, then reclaims the yarmulke cruelly cast aside by his tormenters and walks off into the light, presumably to be gallantly executed.
There's no support for this interlude anywhere in the play. True, Shylock isn't a racist caricature like Barabas in "The Jew of Malta" (the play to which "Merchant" is a response). But it doesn't follow that if he's not a monster, then he has to be a swell guy.
It's a testament to Sullivan's ingenuity that this gaffe doesn't sink the production. There's also the winning Lily Rabe as Portia, who has to justify all the to-do over the money Bassanio has borrowed to court her (she's worth it), and there's the servants' romance between Gratiano (a very funny Jesse L. Martin) and Nerissa (Marianne Jean-Baptiste). Even Heather Lind is good in the usually thankless role of Jessica, Shylock's wayward daughter.
Most of all, though, the intricate emotional territory around Portia, Bassanio and Antonio is carefully and accurately mapped, and that alone is worth waiting in the endless lines for this production's free tickets.
Tech aspects are particularly good: Mark Wendland's mammoth set is all iron bars and pre-computer financial equipment (including a massive abacus that seems to work like a stock ticker). Wisely, Sullivan has left to the set designer the contemporary political implications of a show that is basically about a credit-default swap gone horribly wrong. Jess Goldstein's costumes are nicely understated, and Acme Sound Partners wows with the sound design: several times during the production, thunder overhead had folks examining the skies over the outdoor theater to be sure they weren't going to get wet. Turned out it was just foreshadowing.
Set, Mark Wendland; costumes, Jess Goldstein; lighting, Ken Posner; sound, Acme Sound Partners; original music, Dan Moses Schreier; fight choreography, Thomas Schall; production stage manager, Stephen M. Kaus. Opened June 30, 2010. Reviewed June 25. Running time: THREE HOURS.
With: Happy Anderson, Liza J. Bennett, Tyler Caffall, Cary Donaldson, Luke Forbes, Bryce Gill, Shalita Grant, Jade Hawk, Tia James, Kelsey Kurz, Brian MacDonald, Dorien Makhloghi and Joe Short.