VoyageLA sits down with Julia Verdin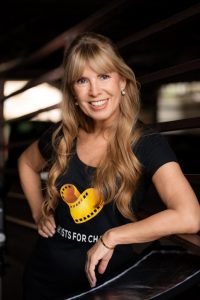 Today we'd like to introduce you to Julia Verdin.
Hi Julia, thanks for sharing your story with us. To start, maybe you can tell our readers some of your backstory.
I went to drama school in London and started in the film business as an actress and loved the experience. I achieved a certain level of success but was not good at sitting around waiting for the phone to ring, so I started to develop film projects.
One of the things I loved most about acting was developing characters and thinking about what a certain type of character would do in a given situation, and I found that same joy in developing scripts. I fell into producing and found that I was good at it and it felt like the right path for me to take.
After producing for over 30 years, getting 36 films into production and developing many screenplays with other writers, I started to write my own. I have now written two produced screenplays, optioned a couple more, and won a number of screenwriting awards.
As a person that seeks out and loves new challenges, I went back to school eight years ago and received an MA in film with a focus on directing and social impact filmmaking. My first project I directed was a short film and loved it. My acting background helped with understanding how to direct actors and my producing experience of working closely with a variety of directors, watching them work, understanding how to cover a scene and the various courses I took all really helped.
At this point, I have directed a number of shorts, and two feature films and am in pre-production for a third feature with more projects in the works. I love writing and directing and so I feel that will be my focus going forward.
When I am in-between films, I also do some consulting for other filmmakers to help them achieve their dreams.
I wrote a book on filmmaking, titled Success In Film, to be a simple guide on how to make a film from start to finish.
I actively participate in volunteer work with local youth shelters and foster children. I founded and serve on the board of directors of Artists For Change, a 501c non-profit with a mission of raising awareness on key social issues through film and media.
I'm sure you wouldn't say it's been obstacle free, but so far would you say the journey have been a fairly smooth road?
I don't think any road is ever totally smooth, there are always bumps, twists, and turns! I always like to look at what some might call struggles as challenges and learning opportunities.
You meet a lot of characters in the film business, and you need to learn how to decipher what people actually mean. In LA, in particular, people often have a hard time saying no, maybe through fear of missing out, losing an opportunity or sometimes they just don't know what they think.
I have had people come to me many times with promises of funding and making a project happen, but generally, I have found the only way to get a film into production is to just set a start date and put one foot in front of the other to do what needs to be done.
The business is also constantly changing, and so I make it my business to keep my finger on the pulse and keep learning and expanding my knowledge and skills.
I think whatever happens in life, you always have a choice as to how you look at it. I try to keep positive and always find the good in all.
Thanks – so what else should our readers know about your work and what you're currently focused on?
I am proud that I have managed to survive in a competitive business as well as always operating with integrity and enjoying the work I do and the people I work with. I have also mentored a lot of young filmmakers and helped them to find the right path to get their films made.
I am particularly proud of the work we have done with Artists For Change – https://www.artists4change.org/.
Our main mission is to create media to raise awareness on key social issues. I am very proud of the media we have created to raise awareness on the issue of child trafficking.
So far, we have the short film I directed, Lost Girls, starring Bar Paly, Marisol Nichols, Siena Goines and Jamie Harris that is currently available on Amazon and on a variety of educational platforms.
I also directed the feature film Angie: Lost Girls starring Olivia D'Abo, Dylan Sprayberry, Jane Widdop, Randall Batinkoff, M.C. Lyte and Anthony Montgomery. It's a story about a young teenager who is trafficked and eventually manages to escape and the challenges both she and her family face as a result of the trauma. Survivors often face ongoing threats from their traffickers.
Child trafficking is one of the fastest-growing criminal activities in the US and globally. During the volunteer work I have done over the years, I have met a lot of teenagers who have been through the most terrible experiences, some of their stories where heartbreaking and it was not something I could look away from.
I hope that the films will help to raise awareness on this issue and raise more support for the many wonderful organizations that fight against it. We have had many wonderful letters from parents who have watched our films with their teenage daughters and found it to be a very bonding experience as the daughter finally understood why they were always checking up on her and wanting to know where she was.
I very much hope it will help teenagers recognize the types of techniques traffickers use to recruit their victims so that they can protect themselves better and also recognize the signs if one of their friends is being groomed by a trafficker and report it. To me, education leads to prevention and many teenagers and families are unaware of how prevalent trafficking now is in the US.
I've been making films for many years. Some of the more well-known films I have made are 2 Jacks, directed by Bernard Rose, based on the Leo Tolstoy short story "Two Hussars": the film starred Danny Huston, Jack Huston, Sienna Miller, Jacqueline Bisset, and Billy Zane; Stander, directed by Bronwen Hughes starring Thomas Jane, Deborah Unger, Dexter Fletcher, and David O'Hara; Sony Pictures Classics released The Merchant of Venice, directed by Michael Radford, starring Al Pacino, Jeremy Irons, and Joseph Fiennes;
I specialize in social impact filmmaking. I am very proud of what we have been able to accomplish so far with these films. The series of films I wrote and directed on child trafficking are being used by organizations for education and we have also done some screenings for schools and communities. I am a great believer of the power of film to raise awareness on key social issues.
I also teach filmmaking and enjoy sharing what I have learned with others. I am a great believer in mentorship and passing down information learned. By sharing what I have learned along the way, and what has worked and what didn't with others can help them to avoid mistakes and make their journey easier. I also like to encourage other filmmakers and actors to use their voices for good and to make social impact films.
I am very excited about our new film, Maya, that I wrote and directed which is currently in post-production. Maya stars Patricia Velasquez (The Mummy), Rumer Willis (Sorority Row), Rena Owen (Star Wars: Episode II – Attack of the Clones), (Gian Franco Rodriguez (Halston), Billy Budinich (Frank and Penelope) and newcomer Isabella Feliciana as Maya. It raises awareness on child trafficking, domestic violence, alcoholism and child abuse. It's inspired by true events and will show how predators use social media to lure vulnerable teens into their lair.
Contact Info:
View Original Aritcle