A Gene That Doesn't Recede
'2 Jacks,' a Satire of Hollywood Machinations
by Stephen Holden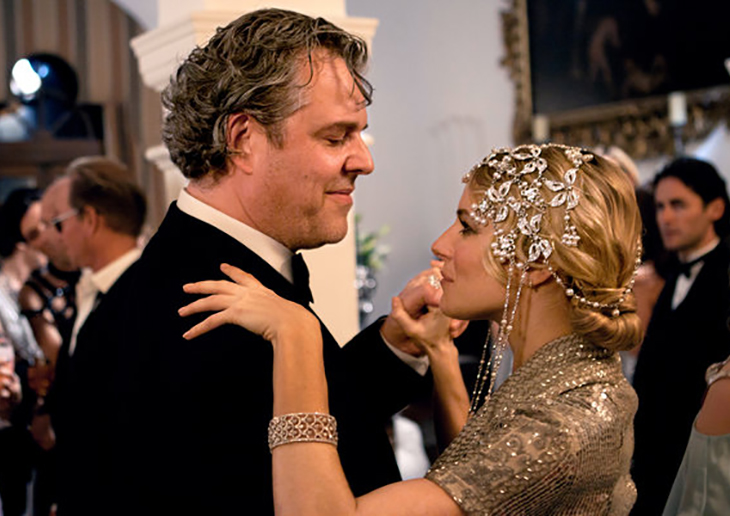 With a cocked eyebrow and a sly grin that with a slight curl of a lip can turn into a nasty scowl, Danny Huston portrays Jack Hussar, a reasonable facsimile of his father, the famed director John Huston, in "2 Jacks." Depending on your perspective, this satirical comedy about Hollywood nepotism and wheeling and dealing, adapted from Leo Tolstoy's early short novel "Two Hussars," is either a son's revenge or a tribute.
There are so many Hussars and Hustons involved that it's easy to be confused by the names in a movie that tells a version of the same story twice, the first set in old Hollywood (exactly when is left frustratingly vague), the second set in the present.
Jack Hussar is a charming, gifted scoundrel who returns to Hollywood with a flourish to raise money for one last film, in Africa, after a protracted sabbatical. Jack floats through Hollywood night life, a cigar planted between his teeth, exuding the imperial disdain and cynicism of a monarch returned from exile.
Women flutter around him, and sycophants grovel. He treats one fawning admirer, Brad (Dave Pressler), whom he meets by chance at an airport baggage carousel, as a virtual slave, taking his money without a second thought. After a scuffle in a hotel where Jack has a long-unpaid bill, Brad offers the great man and his dog free lodging. Jack blithely agrees to let Brad produce his film, and the scenes of this worshipful chump touting himself as a producer at a fancy Hollywood party make you wince at the young man's naïveté. Everywhere Jack goes, he is treated like royalty, even although he hasn't had a box-office hit in ages.
Jack hooks up with Diana (Sienna Miller), an ambitious young actress, whom he leaves asleep in her apartment as he steals off to continue carousing. A compulsive gambler, Jack ends up at a high-stakes card game betting his future on a hand.
Cut to the present, many years later. Jack has died, and his oily, smooth-talking son, Jack Hussar Jr. (Jack Huston, Danny's nephew and John's grandson), arrives in Hollywood from England to make his first movie. Supremely arrogant and entitled, Jack Jr. throws a hissy fit at the same hotel where Jack Sr. had kicked up a ruckus. He and his screenwriting partner end up staying in the home of Diana (Jacqueline Bisset, still beautiful at 69). On meeting her daughter, Lily, an aspiring actress, Jack Jr. can't resist promising her the moon, then forgetting about her as he disappears into the night. As they say, the wormy apple doesn't fall far from the rotting tree.
Written and directed by Bernard Rose ("Immortal Beloved"), "2 Jacks" has a pleasing circular structure, and it doesn't push the parallels between old and new Hollywood to absurd limits. Playing these self-infatuated flimflammers, Danny and Jack Huston obviously know the drill. It's in their blood.
2 Jacks
Opens on Friday in Manhattan.
Written and directed by Bernard Rose, based on the short story "Two Hussars" by Leo Tolstoy; director of photography, Mr. Rose; edited by Matt Dean; music by Anatoliy Mamalyga, Billy Morrison and Iryna Orlova; production design by Bradd Fillmann; costumes by Julia Clancey; produced by Julia Verdin; released by Breaking Glass Pictures. At the IFC Center, 323 Avenue of the Americas, at Third Street, Greenwich Village. Running time: 1 hour 30 minutes. This film is not rated.
WITH: Sienna Miller (Young Diana), Danny Huston (Jack Hussar Sr.), Jacqueline Bisset (Older Diana), Billy Zane (Max Faraday), Izabella Miko (Dana), Lydia Hearst (Alexis), Jack Huston (Jack Hussar Jr.), Jamie Harris (Colin), Richard Portnow (Lorenzo), Guy Burnet (Paul) and Dave Pressler (Brad).
View Article